Movies
Brothers- Ang Probinsyano Episode 396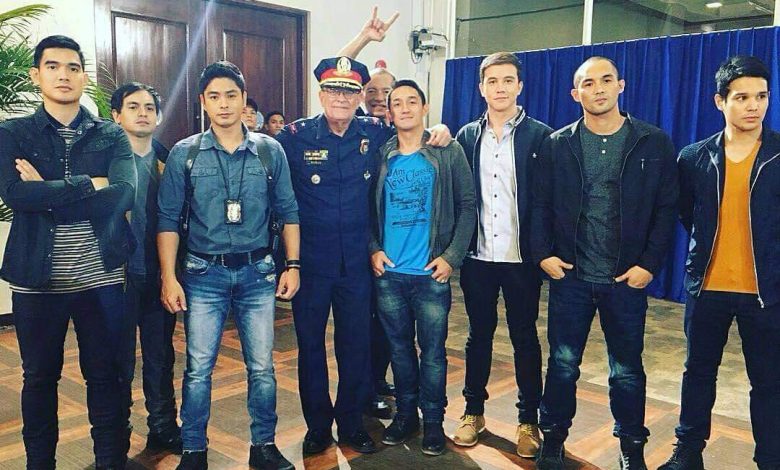 Brothers- Ang Probinsyano Episode 396 Rosa planned to report the Vendetta for the bounty, Billy and colleagues fall into Terante's trap
At camp Crame, Chikoy wondered if it was true that the Vendetta has ambushed Terante. Billy believed it was so since he already spoke with Jerome and told him about Delfin's arrest. Mark found it sad that Delfin had to remain in hiding if the Vendetta actually saved him.
Terante thanked Lucas for the second time. He said he would make General Borja to resurface by using his trusted allies as bait. Aye and Hannah woke up late and went to have their breakfast. Rosa broke the barrier to make her way through to Efren's house for her kids.
Terante called Marquez to remind him of their agreement about the underlinks of Borja. Rosa stormed Efrien's place so Marie and Patrick tried to stop her but the woman broke in to demand for her kids from Efren. The kids pleaded with Efren not to allow their mother to send them away. She said the children were hers and she had every right to go away with them.
Read On: Rhodora X Episode 5
She insulted Efren, saying the fact that he was an old man did not mean he knew everything. Efren said though she had the right to come for her kids, however, the kids were not well treated by her and warned her to allow the kids be otherwise he would report her for selling drugs.
Due to the confrontation, Cardo went there to ask if everything was okay. Rosa looked surprised to see him and the rest of the Vendetta members. Efren sacked her from his house and Rosa warned that it wasn't over. Billy and his colleagues went to Marquez' office and was told he would be assisting the anti-illegal drugs force to raid a warehouse containing meth, cocaine and other drugs.
He showed them the map of the secluded area where they would find their target. Billy told Marquez that they also have some lists of bigger drugs syndicates in the country and the one he mentioned was not part of it. Marquez said that showed how weak the CIDG intelligence was so now that he was the boss things would change because the drug syndicate he was talking about was new and came to the country early of the year.
He told Billy and colleagues to wait for the signal of their assets who would pose off as buyers, they unknowingly agreed. Margie was upset that Terante was blaming Cardo and the Vendetta for yet another crime. Shirline believed it was time to stay away from Flora to protect themselves from any pending harm like the one the ombudsman suffered. She believed in Terante and told Margie to stop drawing closer to Grandma Flora.
Read Also: Brothers- Ang Probinsyano Episode 395
Margie made it clear that since Flora and her family risked their lives to save hers, she would equally risk her life to support them. She told her family that after eating, they would go to Flora's place to visit her. Flora received a call from Teddy who asked about the attack on Terante. Flora admitted the truth and said Vendetta rescued Delfin.
Teddy wondered why Cabrera did not mention that during his press address. He had a hunch that Lucas did not want to give a glimmer of hope to the citizens to think they would be rescued by the Vendetta to start a new revolution. Flora also believed so and was glad that her brother was saved.
At Camp Crame, Marquez prepared Billy and his colleagues for the operation. Terante arrived and Marquez said he had reported early while he had to stay home and rest.
Terante said he had a mission to accomplish, till then, he wouldn't wink an eye till all the Vendetta members and those who support the notorious group were all arrested.
He told Marquez not to show any mercy and arrest all those syndicate members. As Hannah and Aye were crying that their mother would come for them, Rosa took the newspapers which had the report of the Vendetta in it and was glad that the group would be her ticket to riches. She made ready to report the group for the bounty.
Read More: Brothers- Ang Probinsyano Highlights Episode 394
Margie on the other hand, visited the De Leons to check up on them. The Vendetta kept thinking about Rosa and her presence in the house. They felt that their safety in the place was compromised so Diana told George to keep watch on Rosa carefully so that they could prepare to meet what she was plotting against them.
JP found the act of  Cardo as laudable but Virgie did not see that as impressive. She was scared for the life of Alyana. Flora told her family that she would push through with the charges she filed against Terante especially now that they knew the truth. Wally believed President Cabrera would choose his ally as an ombudsman and Flora could not tell anyone that she has spoken with Borja and Cardo so the old woman decided to talk to Billy to know what she could do.
She called Billy to inform him that Cardo has rescued Borja and Billy advised Flora to keep the information under wraps. Equally, the information would be kept within their circles without any third party knowing. Flora told him that she called to seek his guidance on what to do since she wanted to pursue the case she filed at the ombudsman's office.
Billy assured he would find a way to help her obtain justice and for the culprit to pay for their crimes. After the call, he, Mark and Chikoy were wondering why Terante did not announce that Borja has been rescued. Billy was sure that Lucas did not want the public to consider that his administration was weak and also to cover their criminal acts.
Also Read: Brothers- Ang Probinsyano Episode 393
As Efren was begging the Vendetta for the earlier incident and guaranteeing them of their safety, Patrick visited Rosa to explain how he tried to convince her kids to return but they refused. Rosa warned Patrick to brace himself because she would get his family especially his grandparents including Patrick himself k!lled for keeping her children. She also said his family had put the entire neighbourhood at risk for keeping the Vendetta.
Marquez went to see Terante to inform him that the subordinates of Borja had fallen to their trap and that night, they would make them pay. Terante did not want to fail the president so he warned Marquez to ensure their plans go on well smoothly. Terante called Lucas to inform him that Borja's subordinates have fallen into their trap and were going down that night.
Meanwhile, Billy and Chikoy had bad feelings about the operation that they were embarking on that night. The De Leons watched the news and the reporters kept talking about the same thing. The attack on Terante by the Vendetta while none was talking about the deàth of the ombudsman and the disappearance of some citizens.
They believed it was a deliberate attempt to cover the weak in the Cabrera's administration. For Teddy, he was not ready to be bought and was hellbent on exposing the current administration and its criminal activities. Aubrey took care of Aye and Hannah and her father was proud of her.
She then thought of means to help the children and the community in which they were living in. Brandon went to buy a new car and had a lady escort for the night. As he was driving,some police men chased after him unknowingly. Brandon pulled over and slapped one of the officers for ruining his date. The officer apologised.
In the palace, President Cabrera was happy and congratulated Damien for the newspaper article for the next day which had the supposed criminal and illegal activities Oscar engaged in during his tenure as president. General Borja, told the Vendetta not to lie low in their mission. In fact they had to act fast due to the culture of silence Lucas was promoting.
He narrated that while in the detention facility, there were seasoned journalists, students and some individuals who were k!lled by the goons of Terante. Jonathan, the editor was able to overcome his fears to side with Teddy to keep writing the articles which were to fight for justice.
Billy, Cikoy and Mark went to the warehouse and the other police force called to inform the operation head that the subject had arrived and the followed Borja's subordinates in the meth lab in order to nab them. Borja's subordinates realised it was a set up and they aborted the mission since it was a trap.
It was too late so they had to engage in shõotout with the rest of the police who got them surrounded. They hid in an attempt to escape but Terante and Marquez' men threw a grenade at where Billy and colleagues were hiding to k!ll them but the three officers escaped from that room. The grenade went off and part of the meth lab exploded.
Source: www.spotonnews.net