Movies
La Vida Lena Highlights Finale Episode 45-50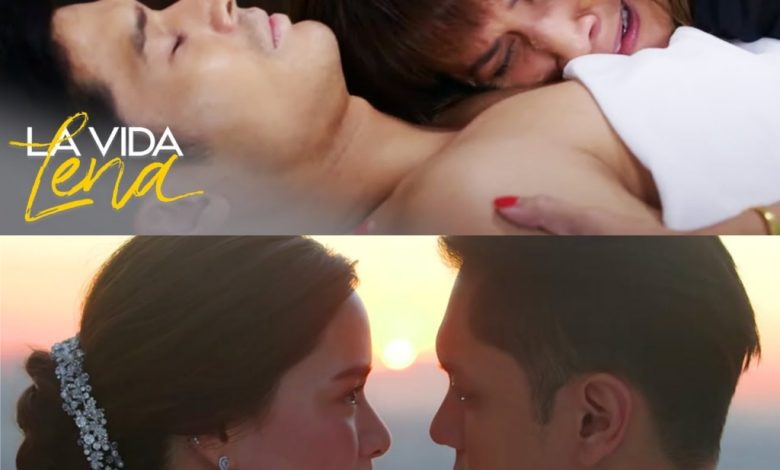 La Vida Lena Highlights Finale Episode 45-50 Lena disgraces Miguel for stealing from her during their wedding, Lukas ends up as handicap while Vanessa joins Brian and Conrad behind bars after Adrian's deàth
Ramona is upset by the confession of Lukas. She threatens to k!ll Lukas for making her pay for a crime that he himself committed. Adrian relays the information he gathered on Sheryl through Ramona's phone call to him.
Lukas goes through his safe to find the evidence against Sheryl which he uses to blackmail her. Unfortunately, he can't find it and suspects Jordan has given it to Ramona. Lukas initiates a new plot which causes his deàth to frame Ramona.
To strengthen Lukas' ace, Adrian accuses Ramona of the former's deàth but Lena sides with Ramona. A wake is held for Lukas and Vanessa who is questioned by Kiko on her husband's deàth appears. Lena blames Vanessa for her father's supposed deàth.
Ramona still becomes the prime suspect in Lukas' murder. Kiko questions Conrad on the famous Juan Renoso, the brains behind the bomb which k!lled Lukas. Meanwhile, Rachel accuses Miguel of being a freak and he is only after Lena due to her wealth, company and being a Narciso who might inherit Royal Wellness.
Read On: Brothers- Ang Probinsyano Highlights Episode 365-369
She wakes up to the reality that Miguel married her simply because she was a commissioner's daughter. After Ramona is locked up, Lukas' will is read and he left all his wealth to Adrian and left Vanessa with nothing. He also left Royal Wellness for Lena, which surprises her. Lena becomes suspicious of her father's real intentions and told Ramona about it.
Ramona believes Lukas did that to make up to her for all those times that she saved him from deàth. Hearing Lena inherited Royal Wellness, Miguel calls her for celebration but Lena who has realised the real intentions of Miguel being with her, denies him se×.
Adrian resigns and Miguel quickly embraces his post as COO of Royal Wellness. Least did they know that Royal Wellness is bankrupt and is owing 749million. Lena realising Lukas intentionally left the company in her care as a form of punishment also decides to punish the Narcisos by allowing the company to collapse.
Rachel realises that she is pregnant for Miguel and is willing to do anything to make him return to her. Lena address the press to reveal her intentions to file for bankruptcy. She blames the previous administration for the current crisis that is collapsing the legacy of the Narcisos which is set up in 1958.
Read Also: Article 247 Episode 5
Vanessa becomes the suspect and the media eyes her for an interview. She approaches Lena to scold her for blaming her for the Royal Wellness bankruptcy. She suggests Lena repackages the stocks of Queen Vanessa soap and uses new marketing strategy to put Royal Wellness to its feet but Lena refuses.
Fast forward, Lena realised some discrepancies in the sales of M&R. Miguel tells her to concentrate on Royal Wellness while he goes through that discrepancies. He also tells Lena that he will no longer accept the COO position of Royal Wellness since he is busy with M&R and Harmony, leading Jordan to call him a coward.
In order to fast track Ramona's case, Kiko convinces Conrad and with the Commissioner's help, the police are able to nab Brian. Elsewhere, Adrian attempts to ràpe Lena when she fails to accept his money and all his inheritance he sold for them to start a new life.
Lena is grateful to Jordan for saving her once again and and they express their l0ve for each other. Brian is pushed to his limit and he reveals to Lena that he only acted on the orders of Adrian, Vanessa, Conrad and Lukas when Miguel revealed where her formula was written. He says it was Adrian's idea to steal the formula.
Hearing her son is willing to do anything to be with Lena while insisting on her to travel far, Vanessa plots to get back at Lena for taking everything away from her, including her son. She attacks Lena at her condo to pour acid on her but she ends up being the victim.
With her face burnt, Vanessa pins the blame on Lena and gives false information to the police. After review of the entire footage at the condo, they realise Vanessa is the culprit. Elsewhere, Jordan hacks into the email and phone of Miguel to find out that he has been stealing from M&R to enrich himself.
Rachel makes another unsuccessful attempt to reveal to Miguel that she is pregnant but finds out Miguel's conning act. Lena lures Miguel and Adrian to fight each other while she plans an ace to get back at each one of the Rubios and the Narcisos. Vanessa, on the other hand, is hellbent on hurting all the l0ved ones of Lena and enlists Conrad's help to get Ramona attacked in her cell.
This triggers Lena to do the unthinkable to set Royal Wellness ablaze. Unknown to her, Adrian overhears her and victimise Jordan to be burnt along with Royal Wellness in order to have Lena by himself. Before the bomb will explode, Lena realised someone is trapped inside the building and goes to the person's rescue, only to discover it is Jordan.
With his suspicious act, Lena makes Jordan hack into Adrian's system and finds out something unusual, a person who is at Quazon using Adrian's credit card.They decide to delve into the matter.
In their journey to Quazon, Lena and Jordan find out that Lucas only faked his death in order to run away from all his financial woes, as well as to exact revenge on Ramona in order to have a fresh start abroad with Vanessa. He once again admits accidentally k!lling his own father Don Luis many years ago and framing up Ramona because of envy.
As Lucas threatens to guπ down Lena, Adrian, who serves as his accomplice, comes just right in time to save Lena. Lucas brands Adrian as a huge disappointment, but Adrian fights him to snatch the guπ from him. The unfortunate happens as the trigger pulls and Adrian ends up fatally shot.
In his last moments, Adrian asks Lena for forgiveness, demanding her not to forget the last sacrifice he did for her, and even professed his undying l0ve for her. Learning about the untimely deàth of her son, Vanessa breaks down upon seeing his lifeless body at the morgue and finding out that it was Lucas who k!lled him.
Elsewhere, Conrad has a heartwarming moment with his daughters Allison and Rachel when they visited him in jail. He's equally sad about the tragic passing of his son Adrian, but he expressed how being inside the cell has been a blessing in disguise for him.
Meanwhile, after Jordan succeeds in withdrawing all the money in his account as directed by Ramona, Lucas desperately reaches out to Vanessa to ask for help, to which she coldly agrees to meet with him.
But little he did know that she will be coordinating with the authorities in order to have him finally arrested, before fully surrendering herself to pay for her own crimes.
After years of rivalry, Rachel and Lena are able to finally patch things up between them, with the former even congratulating the latter for her then-upcoming wedding with Miguel, as well as thanked the latter for helping her realise how selfish and cunning her ex-husband was.
Lena is able to prove it further when she told Miguel about his ex-wife's pregnancy yet he still wants to go through with their wedding.
Just when he thinks he has already struck the jackpot, Miguel finds himself humiliated on their wedding day as Lena exposed his debauch acts in front of the press and their high-profile guests and even tags him as opportunist.
Two months after the police failed to catch him, Lucas suddenly appears to fulfill his vengeance plot against Lena and her cohorts. He disguises as a waiter in order to plant a bomb at their party, then has a confrontation with Ramona when he was able to corner her.
He turns her into his hostage when Lena arrives in the scene and this is when he confesses about being the real culprit behind the demise of Lena's mom, Helen.
Jordan and Lena are able to save Ramona and immediately escape along with the other people at the venue. Despite finding out the truth, Lena still attempts to save her already deranged father by persuading him to run with them, but he instead detonates the bomb.
Lena finally takes full control over Royal Wellness while Kiko gets promoted at work, Ramona on the other hand is able to take back her license as a doctor, and Digna, Betchay, Dr Martina and Ramona are named as the new board of directors of Royal Wellness.
Miguel, who now works as a waiter, has the chance to say sorry to and make amends with Lena after everything he did to her. He also attempts to apologise and rekindle his connection with his ex-wife Rachel, but she refuses to talk to him. Thus, he simply left a brown envelope containing money for their baby.
While Vanessa, Conrad, and Brian are all in jail, Lucas is revealed to be alive and being taken cared of in a special facility as he had lost his left arm and both legs due to the explosion.
Lena and Jordan finally get married, something which Dado had already foreseen when he was only 14 years old. Since she has been the l0ve of his life, Jordan promise not to hurt nor forsake Lena as they look forward to a future together that is as lovely as the cityscapes.
Source: www.spotonnews.net