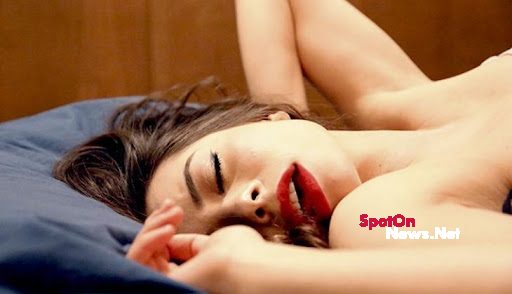 Why women [email protected] during $3x, check out what researchers say
Have you ever wondered why women make sounds of "aah" and  "umms" during inter¢our$e?
Did you ever thought of it being a pleasure? Pain? Or both?
Well some men would say it is because they are such amazing hell breakers thus m0aning indicate their $e×ual prowess.
That, is not always true, women [email protected] during s*x for various reasons as indicated by experts.
Moan!ng is a verbal response that happens due to deep pleasure and satisfaction, pain or discomfort or getting into ones body.
In 2011, Gayle Brewer of the University of Central Lancashire and Colin Hendrie of the University of Leeds published their research on the topic technically known as "copulatory vocalisation" — in the Archives of $e×ual behaviour.
In the study, 71 $e×ually active hetero$e×ual women between ages 18 and 48 were asked for more details about vocalisation during $3x.
The researchers found that many of the women did make noise but not necessarily while they were having an orga$m.
Instead, 66per cent said they [email protected] to speed up their partner's climax, and 87per cent stated that they vocalised during se× to boost the man's self-esteem.
"While female [email protected] were most commonly experienced during forepl*y, copulatory vocalisations were reported to be made most often before and simultaneously with male ej*cul*tion," the researchers wrote.
Women also reported making noise to relieve boredom, fatigue and pain or discomfort during $3x.
So is female vocalisation during $3x just a performance for a guy's benefit?  According to Meg Ryan "over-the-top [email protected]" were meant to prove a point to "Harry" that men are easily duped by a fake org*sm.
However, Kristen Mark, a se×uality researcher at Indiana University said "there isn't a lot of research in this area but we're bombarded with images through mainstream media that tell us [email protected] is associated with org*sm and $e×ual pleasure.
So it would be a fairly wise faking strategy to [email protected] since men already tend to associate [email protected] with org*sm."
Of course, there's nothing smart about faking it.
"If you're faking an org*sm, you are signaling to your partner that he is doing everything right, when in fact he isn't," $e× educator and author, Patty Brisben said.
He further urged women to "use [email protected] as a way of signaling that you are excited and things really are feeling good, not as a way to hide that they aren't."
Fake or not, women aren't the only primates who vocalise during $e×. Research in the animal kingdom reveals that female baboons, for example, have a variety of c*pul*tion calls, which appear to relate to their fertility.
The vocalisations tend to become more complex when the females are closer to ovulation and vary when a female is [email protected] with a higher-ranked male baboon. Female macaque monkeys give a shout to help trigger their mates' org*sm, too.
Performances and primatologists aside, vocalising during s*x can actually be a great tool to help women get what they want in bed.
The vocalisation is used to teach one's partner what feels good. It indicates "stop, go, yes, more please," without sounding like a traffic cop."
When it comes to noise, "partner benefit isn't the only piece of the puzzle. Perhaps making noise turns some women on and helps them experience pleasure."
However, many women become vocal to help themselves achieve org*sm. Some researchers have stated that it helps move them and their [email protected] along.
There are certainly phases as a woman gets into it, she may become extremely vocal and then move into a period of quiet as she is on the verge.
So do what feels right to you. Any other benefits are just a great bonus. And when it comes to "copulatory vocalisation," perhaps men should take a lesson from the ladies.
"Women understand that moan!ng is a turn-on for guys, and many women ultimately enjoy it since they've made an effort to push a little beyond what comes naturally," said Logan Levkoff, a s*x educator and author of a guide for men entitled "How To Get Your Wife to Have $3× With You."
"But $e×ual self-esteem is a two-way street, and, for their part during $3×, guys should aim for more than a single grunt at the end.
It's not about faking or doing something you don't want to, but more about being $3×ually present and in sync with each other."
In making noise during pleasure look at these seven key reasons:
5. She Learned It Somewhere
7. Natural Response To Pleasure
Having passionate $e×, and one sense that a pleasure-filled [email protected] is about to escape her lips, never stop it or feel embarrassed or worried about what someone else might think allow the moans shake the trees as experts say it is a powerful experience.
It is therefore important to listen to one's body. Just like one moans when tasting a really good strawberry or taking a sip of delicious coffee.
These are the same types of responses the body gives when having $3×— something good is happening.
Source: www.spotonnews.net