NEWS
Elections 2020:Bosom Freho residents threaten to destroy ballot boxes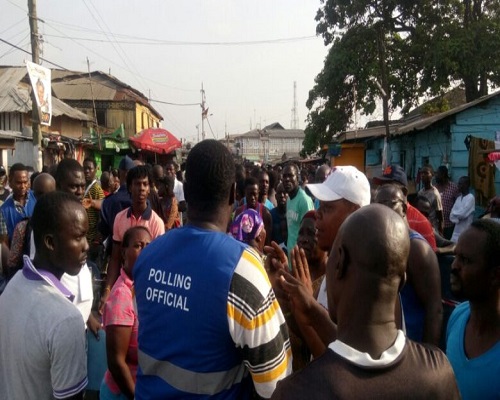 Elections 2020:Bosom Freho residents threaten to destroy ballot boxes
Residents of Aframoase, Keteke in the Bosome Freho constituency of the Ashanti Region have threatened the Electoral Commission (EC) not to conduct elections in the area.
According to them, the two major political parties, the New Patriotic Party (NPP) and the National Democratic Congress (NDC) have failed to construct their dilapidated road in the area.
READ ON: Barima Sidney to be slapped with another lawsuit over the release of 'Papa no' video
The youth which staged demonstration over their dilapidated footbridge and road connecting from Nsuta to Supom said the road has turned into a death trap with the NPP and the NDC failing to construct it.
Due to that, they warned EC not to set their electoral area with ballot boxes coming December 7, otherwise there would be war.
Aggrieved residents, demonstrating their grievances stated that both NPP both parties  promised to construct the road but failed to deliver their promise, hence their threat.
READ ALSO: Marriage is a scam and more than 50% ends in 10 years—Serwaa Amihere
Explaining why they demonstrated, they said  demonstration was the only language being heard by the 'deaf' political leaders in their constituency, that is why they took to their streets yesterday.
Commercial Motorcycle riders known as "Okada" bemoaned that numerous deaths had occurred due to the nature of the road and appealed for urgent assistance.
They also stated that sick people and expectant mothers were mostly at risk since the state of the bridge and the road were not convenient, they were carried  at backs of their relatives for several miles before reaching a health facility.
In addition, they said until their dilapidated bridge and road are repaired, political parties and the EC would not be allowed to campaign nor hold 2020 elections in the area.
READ MORE: Eno Barony rubbishes VGMA and questions its credibility after 'best rapper' awards swerve
However, the Assembly member of the area, Godfred Nortey, addressing the media said they have filed several complains to the Member of Parliament and the District Chief Executive but all to no avail.
He urged government to act fast to develop infrastructure of the area to win the trust of the residents.
"The present leadership of the council has not carried out any developmental projects in this area.  This is a situation the district assembly is supposed to address very long time without delay," Mr Nortey added.
The Chief of Aboabo community, Nana Domanu Thomas, regretted that " residents of the communities are deprived of quality roads, chip- compound, potable water, Education and toilet facility."
Source: www.spotonnews.net