It will be a Night of Unstoppable Laughter— Okokobioko
It will be a Night of Unstoppable Laughter— Okokobioko urges Ghanaians to patronise Atmosphere of Laughter
Celebrated comedian, Nana Osei Bonsu popularly known in the Showbiz world as Okokobioko has called on creative art stakeholders and the citizenry to help promote Ghana's comedy by patronising a maiden Comic Show christened; "Atmosphere of Laughter."
The event which will be held on Saturday March 27, will see performances from many comedians including Mjthecomedian, Ken De comic,  Shegelabobo, Alo Wess, Nino, Dr Sas, P Jay together with some finest poets and magicians to entertain patrons.
READ ON: Miller Greg to set Labone on fire with  'Atmosphere of Laughter' comedy show
It will kick-start with a red carpet at exactly 5:00pm while the event itself takes off at 7:00pm at the Mikaddo Conference Centre with ticket going out for Ghc70 VVIP, Ghc50 for VIP and Ghc30 for regular.
The show which is first of its kind is organised by Anansesam Media  in partnership with Spot On News among other great agencies.
Speaking in an interview with Spot On News in Accra on Sunday, Okokobioko noted that the comedy show would be one in a million as many talents would be laced together in the night to serve fans and patrons with a Night of Unstoppable Laughter.
READ ALSO: George Quaye asks event stakeholders to reduce prices to enhance event business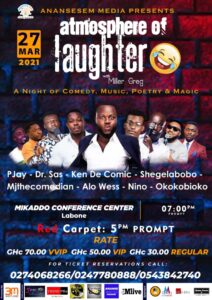 He said the outbreak of COVID-19 had wiped out laughter from the lips of many people and expressed the need for Ghanaians to patronise the show to laugh and have fun.
The half Ghanaian-half Nigerian comedian indicated that Atmosphere of Laughter was an event that would give value for money and urged creative stakeholders to invest in the comedy sector to give Ghanaians variety.
He expressed worry that all the investors have shifted their interest in music and said it was not boosting the industry.
READ MORE: Ghana's creative art industry hit by death of Eddie Nartey's wife
Okokobioko observed that Nigerians understand comedy better than Ghanaian Creative Art stakeholders and advised them to learn from the Nigerians.
"I am calling on the Creative Art stakeholders especially the media to help promote comedy shows in Ghana to attract investors into the sector. If we look at our neighbouring country, Nigeria lots of comedians are wealthy than top musicians in Ghana because investors invest into their act and this cannot be said in Ghana," he added.
Okokobioko said if more resources are invested  into the comedy sector, the Creative Art industry would grow in the right direction to hone talents and broaden the industry.
Touching on the preparation to the event night, he assured that plans were far advanced to entertain patrons on the night of Atmosphere of Laughter and encouraged the public to patronise the ticket to ensure the smooth flow of the programme.
"Laughter is medicine so i will urge all Ghanaians to buy their ticket and come to the event because it will indeed be an Atmosphere of Laughter. Expect more from me on the night because I am ever ready to make my fans laugh," Okokobioko added.
Okokobioko has performed at Luxurious comedy show, and has been a Master of Ceremony (MC) for several events including Lyrics and laughter show while hosted his comedy show Anointed to cause Laughter and will perform live at Atmosphere of Laughter.
Source: www.spotonnews.net