Reigning female rapper, Ruth Eno Adjoa Amankwah Nyame Adom known in music scene as Eno Barony has expressed disagreement on Becca's decision to bow out from the industry.
According to her, key industrial players were not yet done learning from the high life/afro pop singer and urged her to rescind on her decision.
Speaking to spotonnews.net the "heavy load" hit maker stated that Becca is her icon in the industry and she has learnt a lot from her.
She explained that she was following her foot print and could be astray if she ever stepped out from the musical grounds.
"Becca is our senior sister and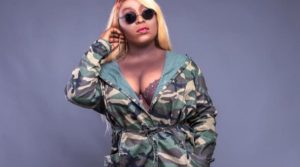 she is one of my favorites so her decision to bow out is a hard blow for me," she said.
Becca posted on her Instagram page about a week ago that she would end her musical career by the close of this year to focus on her projects and family.
She however explained that her decision was backed by cutting edge blue print and promised to invest in a worthy talented artist once she draws the curtains.
BY JOYCELINE NATALLY CUDJOE